Biography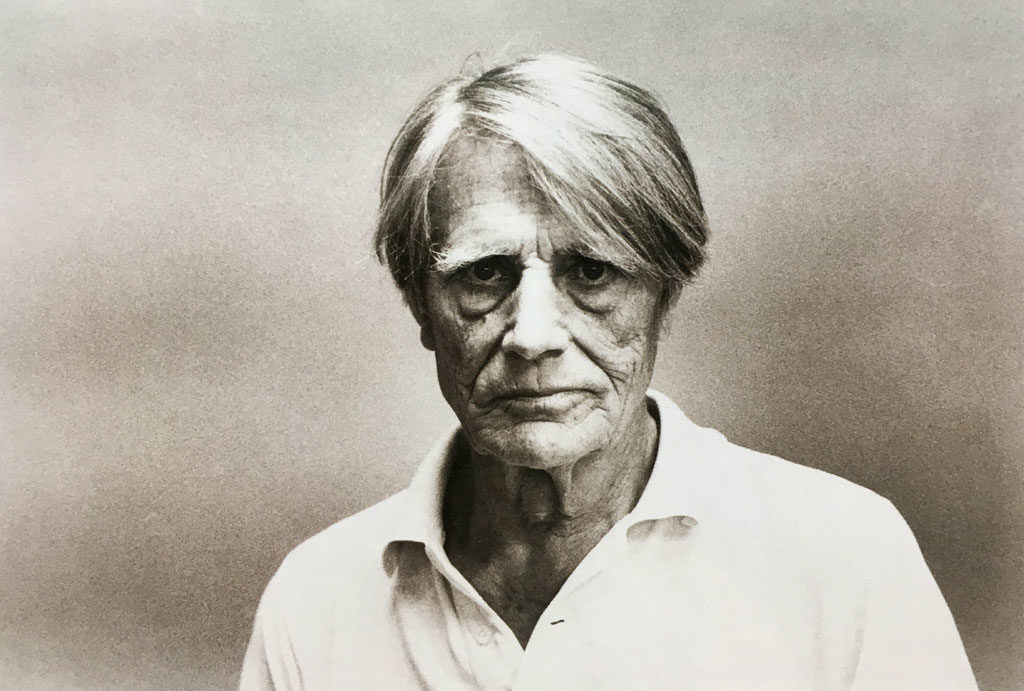 "My approach to art is fundamentally experimental. I consider that art – painting, printmaking,
sculpture etc – is a means of research or a pursuit of knowledge rather than a method
of producing objects for pleasure, decoration or entertainment. Together with disciplines
such as physics or mathematics, as with music or poetry, art is an attempt to extend
and deepen our knowledge of life and our relations with our world. Furthermore it is a way
of seeking means of transmitting and sharing such experience with others.

What is the enjoyment of this art? The source of the joy of working in this field
may be the participation in a process leading to the unknown,
the opening of the mind, the surprise of discovery and the breakthrough of revelations.

What is the intention of art? Perhaps it is to lead man toward a fuller understanding
of his terms of existence; to aid all people to live more completely and escape
from the history of human error; to demonstrate by example that the human mind
has unlimited capacity to go further and further the more one demands of it."
S.W Hayter, Paris, October, 1969.
Hayter was born in Hackney in 1901. His father was a painter and sign maker but he encouraged his son to study geology and chemistry. Hayter graduated with an honours' degree from King's College, London and started work in the laboratory of Samuel Smiles on organic sulphur compounds. Offered a contract by the Anglo-Iranian Oil Company (later B.P.) he travelled by ship to Abadan where he was put in charge of some 200 workers. Free time was spent playing tennis, drawing and painting mostly portraits of his fellow colleagues which he subsequently exhibited in London on his return from Iran. He arrived in Paris in 1926 travelling on a second hand motorbike and enrolled at the Academie Julian. There he met his lifelong friends Balthus and Anthony Gross. Gross and Hayter started to frequent the artist Joseph Hecht who taught engraving at the Cite Falguiere (burin engraving not being part of art school curriculum). Hayter quickly picked up the technique and found the medium of direct engraving suited to his vigorous and exacting approach. In Hecht's studio Hayter met and then married the American painter, Edith Fletcher and moved into her studio in the Villa Chauvelot. There five women artists asked Hayter to teach them engraving. A press was acquired and installed in the studio-home.
On Peggy Guggenheim's suggestion Hayter and his wife spent the summer months in St. Tropez paintings scenes of the surrounding countryside and the little Mediterranean port and it's one hôtel. Paris had become an international art centre but the Wall Street crash of 1929 put an end to allowances coming from the U.S. In the autumn of that year, pregnant with their son David, Edith Fletcher returned to America and filed for divorce in Reno. The way of life of the young couple had become incompatible. Hayter did not wish to renounce the way of life he had discovered in Paris and where he had established values and principles related to his art which he would follow throughout his life. 'To have time to paint' was his everlasting theme song and he was always driven by that. While he could teach printmaking to sustain himself painting was his private expression and an extremely personal one. His second wife, Helen Phillips, a successful American sculptor says in her memoirs, « while painting he is always happy, whistling, singing, humming to himself and throughout his life he devoted Sundays and summers to painting ».
In 1931 Hayter moved to No 17 rue Campagne Premiere and there established the Atelier 17 where it stayed until 1939. He frequented the Surrealists and was invited into the group by Andre Breton. In 1938 after Breton ostracised Paul Eluard Hayter also left the movement but as is obvious in his work the principle of automatism had exercised a very deep influence. In 1936 he helped to organise the much discussed International Surrealist Exhibition at New Burlington Galleries in London also working with Peggy Guggenheim on his own exhibition at Guggenheim Jeune. Hayter and Helen Phillips left Paris for London in 1939 but luckily much of their work, hastily abandoned ,was recovered and sent to the States by Peggy Guggenheim. Reformed from active military service owing to a back problem Hayter volunteered to work on techniques of camouflage in collaboration with Roland Penrose and others.
In 1940 the couple left for the U.S. In the summer Hayter was offered a position teaching at the California School of Fine Arts. He and Helen Phillips were married in Reno before Hayter's exhibition at the San Francisco Museum of Fine Arts and their first child, Augy, was born. They returned to New York and Hayter was offered a space at the New School for Social Research in which to set up Atelier 17 three times a week. The family moved to Connecticut near New Haven from 1941-42. They would see friends as Calder and Gorky and Hayter fished with Reuben Kadish and Jackson Pollock. But they were not happy there and returned to New York where their second child, Julian, was born in 1943. In the summer of 1944 they rented a house in Amagansett where they were joined by the « surrealist » crowd led by Peggy Guggenheim. Hayter fished for clams with Reuben Kadish and Jackson Pollock. Motherwell, de Kooning and Noguchi lived nearby. Hayter continued to paint, direct the Atelier 17 and lecture regularly at the Art Institute, Chicago and in Washington DC, Philadelphia and several universities. He bought a house in Washington St where Helen Phillips had her studio on the ground floor and Hayter his painting studio on the top floor. Family gatherings included Chagall, Masson, Lipchitz and in 1947, Miro.
In 1945 the Atelier 17 moved to a larger premise on East 8th St allowing more artists to work alongside the original group. That same year David, the son of Hayter and Edith Fletcher died and in his grief Hayter made the print, 'Cinq Personnages' which became the first successful large experiment using several colours simultaneously albeit with screens. In 1946 Ruthven Todd, a poet and admirer of the work of William Blake, came to stay with the Hayters. His research into the way Blake wrote his poems directly onto the copper plate aroused Hayter's interest. They were loaned a small fragment of a Blake plate by the Lessing Rosenwald Collection to aid their experiments. Miro who came to work frequently from 1947 was also intrigued by the Blake technique and using great imagination and gestual freedom produced a series of plates based on the method.
Hayter's painting during the 40s graduated from the surreal to a style more governed by automatism and an increasing incidence of linear structure. Many of the works are dominated by brooding, black lines and mythological themes play an increasing rôle. Influenced by the presence of the Surrealist group exiled by the war the younger American artists explored territory between the known surrealism and the yet unknown abstraction later termed Abstract Expressionism. Motherwell in particular acknowledged to have made his transition to Abstract Expressionism at Atelier 17. As the New Yorker art critic, Robert Coates wrote « Hayter played a leading rôle in the emergence of the art that became known as Abstract Expressionism'. Although now a successful painter with yearly exhibitions Hayter missed the familiarity of his previous life in Paris and in 1950, with his family, they moved back to Paris. However the city was no longer the same. The hardships of the post-war years and the revelations of the crimes of the Vichy government made for an uncomfortable atmosphere. The Hayters found a studio in Montparnasse and the Atelier 17 was set up in rue Vandrezanne. Soon many artists found their way back to Paris including in the mid-fifties, students of artists who had worked in the New York atelier and who were now teaching in universities across the States . In Hayter's plates of that time colour becomes an equal of the linear structure so research into obtaining a viable simultaneous colour method was increased. Kaiko Moti and Krishna Reddy were instrumental into fitting the final pieces in the jigsaw and from then on simultaneous colour, widely known as viscosity printing, was regularly employed.
Hayter bought a house in Alba, a village in the Ardeche, where the family spent many summers and Hayter fished in the montain streams of the Claduegne and Escoutay rivers. He observed the ripples and eddies of the constantly moving water, the ever changing surface patterns and the passage of light on and through the water. His paintings show greater freedom and a more expansive space casting off the menacing, enclosed lines of the 1940s. The use of metallic paint echoes the sparkle of sunlight. The vibrant colours express a cosmic urgency, a helter-skelter dash through space.
In 1957, the then director of The Whitechapel Gallery Bryan Robertson, gave Hayter a retrospective exhibition of paintings and prints and in 1958 he represented Gt Britain at the Venice Biennial alongside Kenneth Armitage and William Scott and this group exhibition was subsequently shown in Paris and throughout Gt Britain.
In the 1960s Hayter graduated from his former, very free style to more tightly controlled linear work achieving almost optical effects emanating from the vibrations of his weaving lines as they wander through an infinite space in never ending transformations. A selection of these works were exhibited at the Musee d'Art Moderne de la Ville de Paris in 1972 in a show entitled 'Ondulations'.
The later years are works of intense, rich, harmonius colour as always carefully structured but characterised by an explosive, joyous freedom.