Chronology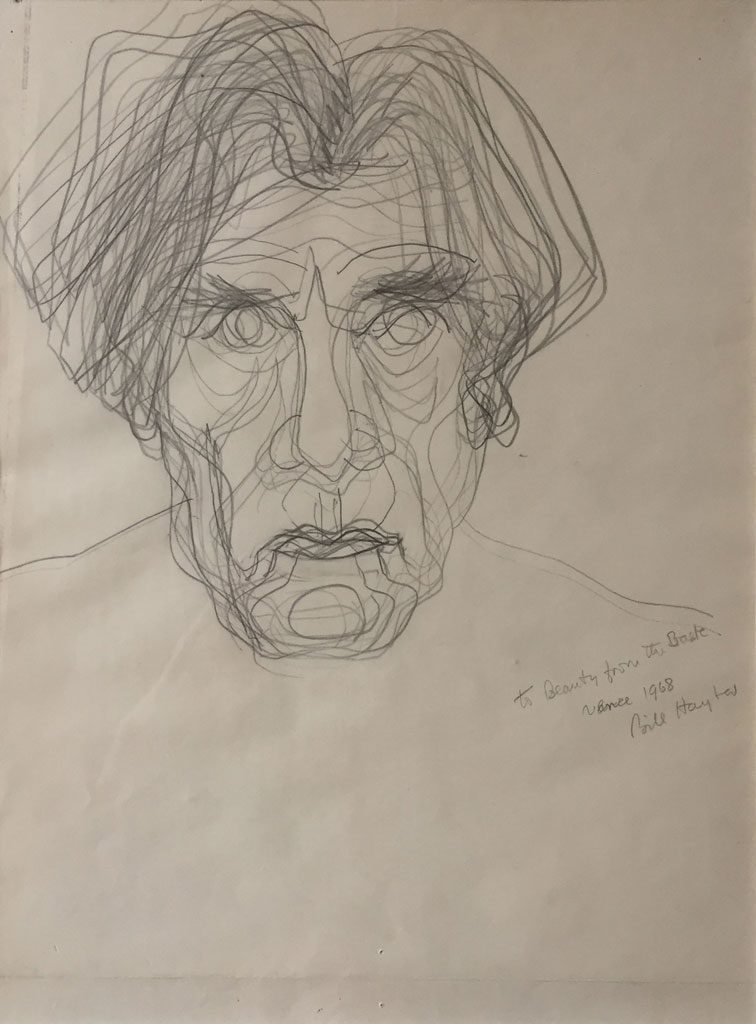 1901
Born in Hackney, London, 27 December.
1913
Won a scolarship to Witgift Middle School Croydon. Made first paintings.

1917
Left school. Began work as assistant research chemist for the Mond Nickel Company, at the same time studying chemistry part time at King's College, London.
1918-21
Full-time student at King's College, London, studying chemistry and geology (Honnour Degree 1921). Did research under Professor Samuel Smiles into organic sulphur compounds. First interest in printmaking.
1922-25
Worked as a chemist/geologist for Anglo-Iranian Oil Company in Abadan. Began to paint more consistently. Made a series of portraits of colleagues working for Anglo-Iranian.
1925-26
Retun to England. Exhibited paintings at Anglo-Iranian headquaters. Decided to become a painter and moved to Paris in March or April, 1926. Obtained studio at 51 rue du Moulin-Vert. Spent three months at Académie Julian. First prints: drypoints, woodcuts, and aquatint. Met Joseph Hecht, Polish engraver.
1927
Established printmaking workshop in his studio but this was later moved to a larger space at the Villa Chauvelot.
1926-29
Summers spent in South of France and Corsica.
1933
Moved the workshop to 17 rue Campagne Première, from whitch the name 'Atelier 17' was derived. Exhibited with Surrealist group in Paris.
1934
First exhibition of Atelier 17 artists in Paris and London.
1936
Exhibited in, and helped organize, the International Surrealist Exhibition at the New Burlington Galleries, London.
1937
Travelled in Spain at invitation of Republican Government, paintings afterwards exhibited at Mayor Gallery, London.
1938
Broke off from official Surrealist group.
1939
Left Paris for London. Some of Hayter's work later shipped to United States by Peggy Guggenheim, some abandoned in workshop and lost. Worked camouflage techniques.
1940
Left London for U.S.A. Gave course at California School of Fine Arts. Settled in New York in autumn. Gave printmaking course (known as Atelier 17) at New School for Social Research, two days a week.
1943
Directed course in printmaking at the Philadelphia Print Club.
1945
Established Atelier 17 as independent workshop at 41 East 8th Street.
1946
Visited Paris.
1948
Gave series of weekly lectures at California School of Fine Arts.
1949
Gave course on printmaking at the Art Institut of Chicago, Professor of Fine Arts in Design Department of Brooklyn College, New York.
1950
Returned permanently to Paris and reopened Atelier 17 at 278 rue de Vaugirard. The workshop moved again in 1954 to the Académie Ranson, rue Joseph Bara; in 1961 to 77 rue Daguerre; in 1969 to 63 rue Daguerre and in 1977 to 10 rue Didot where it continues today as Atelier Comtrepoint.
1951
Awarded Légion d'Honneur.
1955
New York Atelier closed.
1958
Represented Great Britain at Venice Biennale with William Scott and Kenneth Armitage.
1959
Awarded O.B.E.
1960
Awarded International Grand Prize at the Second Tokyo International Print Biennale.
1968
Awarded C.B.E. and made Chevalier de l'Ordre des Arts et des Lettres.
1972
Received Grand Prix des Arts de la Ville de Paris.
1978
Elected Foreign Member of the American Academy of Arts and Sciences. Honorary Doctorate Hamline University, Minnesota.
1982
Elected Honorary Foreign Member of Royal Academy.
1983
Honorary Doctorate, New School for Social Research, New York.
1986
Promoted to Commandeur des Arts et Lettres.
1988
Purchase by British Museum of Hayter's archive of his own prints. Died 4 May.